Step 2: Finding your Model and Serial Number
Finding the Model and Serial numbers of Toro tractors is reasonably easy as the labels are clearly marked. Below are some example labels and the Model and Serial numbers as extracted from the label. If it is not clearly marked, the model number is usually a 5 digit number beginning with a 7 or a 5.

If you require parts for your cutting deck, you will need to find the decks specific model number and serial number as well.

Model Number: 74560
Serial Number: 315000162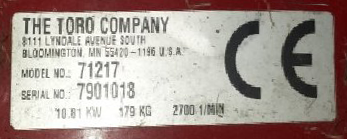 Model Number: 71217
Serial Number: 7901018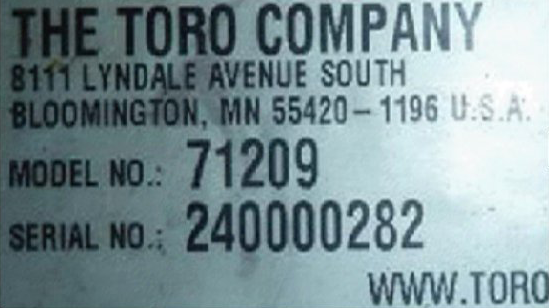 Model Number: 71209
Serial Number: 240000282
Parts for Briggs and Stratton Engines
If you require parts for your Briggs and Stratton Engine, please find the Model, Type and Code numbers.

On your engine look for the numbers as in the images below, they are likely to be located in the following places. Please note that if the numbers are not visible then we would recommend using a wire brush or scratcher and a torch to help uncover them.

Spark Plug Area
Starter Motor Area
Casing on the left hand side of the Engine

Please click here for help on where to find the Briggs and Stratton identification label for your engine.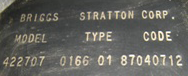 Model: 422707
Type: 0166 01
Code: 87040712

Model: 283707
Type: 0148 01
Code: 91101411

Model: 129802
Type: 1415 01
Code: 94060856

Model: 120T02
Type: 9262 08
Code: 06100556